Winter has arrived and where I live that brings snow covered roads and icy sidewalks, driveways and pathways. Everyone knows that the smallest slip can leave us with a broken arm, leg or even worse, a concussion. While you can take greater caution while walking in areas with ice patches, are you taking enough precaution when you participate in winter-time activities? Activities such as skating, snowmobiling, tobogganing and cross-county and down hill skiing? And if you are, are you also mindful of how you can help those around you stay safe by gently intervening when you see others who have not taken all the necessary precautions?
Did you know that 452 people suffer an acquired brain injury (ABI), also known as a concussion, in Canada each day? One person experiences an ABI every 3 minutes!*
Children and youth represent 30% of all concussions (brain injuries) in Canada, making it the leading cause of death and disability among children.*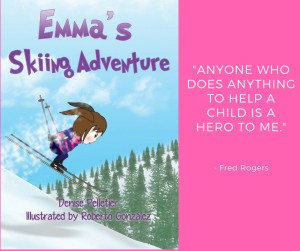 In a past blog I shared devastating statistics on just how prevalent brain injuries are among children on the ski hills that included how traumatic brain injuries account for 50-88% of all fatalities at ski resorts in Canada, with 67% of skiers deaths being children.
Children are most vulnerable to injury and that is what prompted me in wanting to write Emma's Skiing Adventure – a light hearted children's book that delivers the message of how important and easy it is to keep children safe on the slopes and proactive tips on how they can avoid sustaining a concussion. This short read relays this message with humor in a way that captures the attention of children as they follow Emma's exciting adventure on the ski hill.
With Christmas season fast approaching, I know many of you will be heading to the mountains with friends and family for skiing and socializing. Whether you are making your way there over the holidays or you find yourself travelling to the ski hills during the many weekends of the ski season, always remember to put safety first for yourself and those around you.
Those you love, your children and grandchildren especially, will be forever grateful.
*Statistics provided by Brain Injury Canada