Do you know today is World Health Day? It was on April 7, 1948 that the World Health Organization (WHO) was formed with one goal in mind – to build a better, healthier future for people all over the world. To commemorate their anniversary they have declared April 7th as being World Health Day. Each year has a theme and the focus for 2017 is depression.
The WHO defines health as being a state of complete physical, mental and social wellbeing and not merely the absence of disease or infirmity. Mental health, depression being a subset of this, has taken center stage in recent years and WHO recently released a publication titled Depression and Other Common Mental Disorders.
This publication contains some startling data that highlights just how prevalent depression really is:
• Over 300 million people, 4.4% of the world's population, are estimated to suffer from depression.
• Depression is ranked as the single greatest contributor to global disability.
• Depression is more common among females than males.
• The total estimated number of people living with depression globally increased by 18.4% between 2005 and 2015.
• The highest rates of depression are for those between the age of 50 – 79 in both females and males.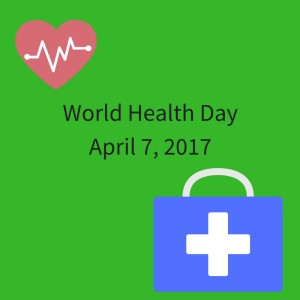 Depression does not discriminate.
It can strike anyone at any time in any place and at any age. Many people who face depression remain silent out of fear and keep their illness to themselves.
What will others think of me?
How will I be perceived?
Will I be judged?
Will I face a backlash in the workplace?
How will my family treat me?
While all of these feelings are valid, keeping everything bottled up inside can lead to a very lonely and sad existence.
Two years ago I wrote about my own personal struggle in an effort to highlight the importance of taking hold of your life. I shared this during mental health week in Canada and mental health month in the USA, and it includes a poem on how freeing it was to make the decision to own my story and take the appropriate steps that significantly improved my outlook on life and my personal well-being. I have not looked back since.
If you are someone you know and love is battling depression I encourage you to not be embarrassed or afraid to seek out the help you need, in whatever way that might mean.
Life is a gift and I want you to do all you can to live yours to its fullest.